ADAS Workshop 2011
The 2011 ADAS Workshop will be held between 6 Oct - 8 Oct 2011 and will be hosted by Auburn University in Alabama, USA.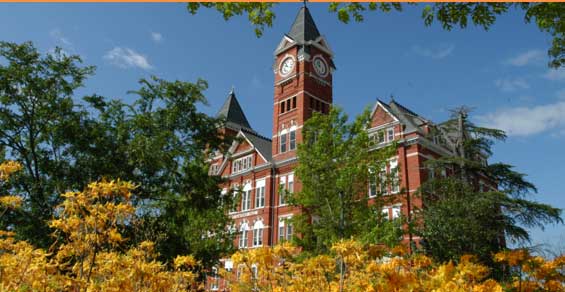 The venue is the Auburn University Hotel and Conference Center (AUHCC ). Auburn is a small university town on the plains of eastern Alabama about 115 miles (185 km) southwest of Atlanta, Georgia. Auburn University is now one of the largest universities in the South and can trace its founding back to 1865.
This will be our first workshop held outside of Europe. However we have had US members of the ADAS consortium since the very beginning so we felt that it was time to highlight this dimension. We are grateful to our colleagues at Auburn who are the local organizers this year.
We realize that it may not be as convenient as in previous years but we do hope that as many as you as possible can make it. As usual, the workshop will incorporate a meeting of the steering committee.
We also draw your attention to an ADAS training course to be held after the workshop at Auburn University. This is a 4 day course, 10-13 October, of lectures and hands-on tutorial work on the use of ADAS and be will be similar to the course held last year. Details are here along with a schedule. To register your intention to attend please contact Stuart Loch.
We will also hold an annual ADAS-EU training course this year, probably mid-December or possibly the second week of January at Consorzio RFX, Padua, Italy. We will circulate details once the dates have been finalized.
TIME AND PLACE: The ADAS Workshop will be held at the Auburn University Hotel and Conference Center 6-8 October. It will start at 9am on Thursday 6th and finish at noon on Saturday 8th. .
ACCOMMODATION: The most convenient place to stay is the venue for the workshop – the Auburn University Hotel and Conference Center, AUHCC located at 241 S. College St., where a number of rooms have been reserved. Please make reservations by calling +1 (334) 8218200 or (800) 2282876 if based in USA. Ask for the ADAS workshop to get the reduced rate of $109 per night.
Note that the following two places are also within walking distance of the AUHCC and may be cheaper:
Days Inn, 333 S. College St. +1 (334) 8873462 or (800) 8435634 is located one block from away and is a relatively comfortable hotel.
University Inn, 129 N. College St. (334) 8214632 is even less expensive.
COSTS: There is no registration fee for the workshop. There are no arrangements for lunch during the meeting but there are many restaurants within a very short walk. A private dining room has been reserved at the hotel for a workshop dinner on the Thursday evening. The menu is that of the restaurant so there is no fixed fee.
Hotel costs for ADAS Project steering committee members will be paid by the ADAS Project although if it is possible to be covered by your laboratory, it would help ADAS finances. Other participants will need to pay their own way.
TRAVEL: Participants will need to cover their own travel costs to the meeting.
We recommend flying into the Atlanta Hartsfield Airport (in Georgia) which is the most convenient airport for travel to Auburn (and often has the least expensive flights). From Atlanta airport you could reach Auburn, either by rental car (approximately 90 minute drive) or by a shuttle/van from the airport to Auburn, www.express85.com, (note the shuttle picks-up/drops-off at the AUHCC hotel). When determining flights, remember there is a one hour time change (Atlanta is Eastern time zone and Auburn is Central time zone) so that 3:00 in Atlanta is 2:00 in Auburn.
An International airport is located in Birmingham, Alabama. Municipal airports near Auburn are in Montgomery, Alabama and Columbus, Georgia. There are no shuttles to Auburn from these three airports.
VISA INFORMATION: Participants from the EU, and some other countries can attend the workshop as part of the visa wavier program (list of countries here). However you will require an ESTA authorization which needs to be applied for at least 72 hours before travel – details at: esta.cbp.dhs.gov/esta/.
If you are not a citizen of a visa wavier program country then you may need to get a B1 visa to attend the conference. Please contact us for further information on this and for assistance in applying for the visa.
MEETING AGENDA: A tentative agenda is being drafted and should be available the first week of September. It is our usual practice to try to have most participants make a presentation so if there is something you would like to present then please let us know.
PROCEEDINGS: The workshop is an informal meeting, which traditionally does not publish its proceedings. Many people like to present material which is not yet ready for a wider audience. However we offer the opportunity to make the talks available on the ADAS website. This is completely at the discretion of the presenter.
ENQUIRIES: The workshop is organized jointly by the University of Strathclyde and Auburn University. Correspondence and general organization will be handled by:
Martin O'Mullane,
Stuart Loch,
CCFE,
Department of Physics,
Culham Science Centre,
206 Allison Laboratory,
Abingdon, Oxon,
Auburn University,
OX14 3DB,
AL 36849
UK
USA
Email: martin.omullane -at- phys.strath.ac.uk
Email: loch -at- physics.auburn.edu
Phone: +44 1235 465313
Phone: +1 (334) 844-5154
Fax: +44 1235 464535