ADAS Workshop 2013
The 2013 ADAS Workshop will be held between 1 – 4 September 2013 and will be hosted by the Institute of Energy and Climate Research (IEK-4) of Forschungszentrum Jülich (FZJ) in Bad Honnef, Germany.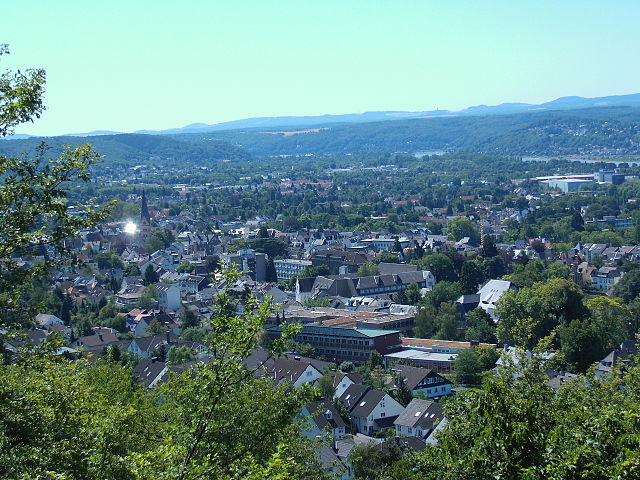 This year the ADAS Workshop will be held at Bad Honnef, a small romantic city close to Bonn. It is situated in the vicinity of the natural park "Siebengebirge" ("Seven Mountains"), where you will find the "Drachenfels" ("Dragon's Rock") a scenic castle ruin. Bad Honnef is famous as the home of Konrad Adenauer, the first Chancellor (Bundeskanzler) of West Germany.
TIME AND PLACE: The ADAS Workshop will be held at the AVENDI Conference Hotel, Hauptstraße 22, 53604 Bad Honnef, Germany. It will start at 9am on Monday 2nd, but we will gather at the hotel on Sunday afternoon/evening, and finish in the evening of Tuesday 3th.
ACCOMMODATION: The AVENDI hotel is the official conference site. We have pre-booked 50 rooms. The reservation is, however, available only until 1st August 2013.
| | | |
| --- | --- | --- |
| Single room including breakfast (per night) | | €79.50 |
| Coffee, lunch, dinner and facility cost (per day, 2nd and 3rd Sept.) | | €62.00 |
| Welcome dinner (Sunday 1st) | | €20.50 |
COSTS: There is no registration fee for the workshop but there is a €43 facility fee cost per day if the lunch and dinner options are skipped.
Hotel costs for ADAS Project steering committee members will be paid by the ADAS Project although if it is possible to be covered by your laboratory, it would help ADAS finances. Other participants will need to pay their own way.
IMPORTANT NOTE: The hotel registration, at the reduced rate, can be made until 01.08.2013 and only by using this registration form. Please contact the hotel directly to reserve accommodation. The use of other booking methods does not guarantee the reduced price and considerably complicates the organization.
TRAVEL: Participants will need to cover their own travel costs to the meeting.
Bad Honnef has excellent connections to major airports and train stations by public transportation. The three closest airports are: Cologne/Bonn, Düsseldorf and Frankfurt.
From Cologne/Bonn airport there is a Regional Express (RE) train every hour at 51 minutes past the hour which takes about 35 minutes to reach the Bad Honnef train station. Trains depart from the Cologne central station at 1 and 38 minutes past the hour and the journey takes 47 minutes. Bad Honnef is also on the Bonn U-Bahn network (U66).
The train station is within walking distance of the hotel (approximately 1km, and closer for the U-bahn stop) but taxis are always available at the train station.
Additional information: The AVENDI Hotel offers Conference participants an opportunity to purchase a two-way ticket from any train station in Germany to Bad Honnef and back for €99. If you are interested in this ticket, please contact the hotel directly here.
Another option, useful for participants arriving at German airports other than Cologne/Bonn, is the Rail&Fly service, offering connections to DB stations from the airport. These train tickets can be booked with the flight from participating partner airlines.
VISA INFORMATION: If you need a visa to visit Germany please contact us for a letter of invitation and any other documentation required.
MEETING AGENDA: A tentative agenda is being drafted and should be available mid-August. It is our usual practice to try to have most participants make a presentation so if there is something you would like to present then please let us know.
PROCEEDINGS: The workshop is an informal meeting, which traditionally does not publish its proceedings. Many people like to present material which is not yet ready for a wider audience. However we offer the opportunity to make the talks available on the ADAS website. This is completely at the discretion of the presenter.
ENQUIRIES: The workshop is organized jointly by the University of Strathclyde and Forschungszentrum Jülich.
For organizational questions please contact the Conference Secretary:
Mrs. Sybille Beyer
Institute of Energy and Climate Research (IEK-4),
Forschungszentrum Jülich GmbH
D-52425 Jülich
Germany
E-Mail:
For questions regarding the scientific programme please contact:
Dr. Dmitriy Borodin
E-Mail:
Tel: +49 2461 615623
Dr. Oleksandr Marchuk
E-Mail:
Tel: +49 2461 611505
Dr. Martin O'Mullane
E-Mail:
Tel: +44 1235 465313